withstand pressure spheres made by titanium φ650㎜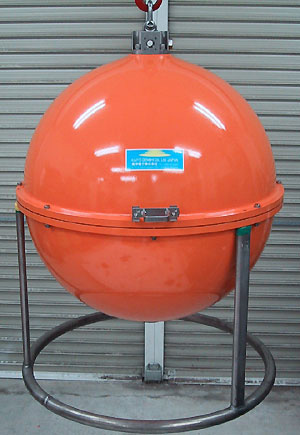 【Model number:RTH-650】
When the ocean survey machines are installed in the deep sea bottom, this titanium sphere pressure container is used as that storage container.
Because titanium alloy is being used for the quality of the material, the biggest characteristics of this sphere are light weight and the main point that it doesn't rust.
About the inside diameter 626mm, capacity 130L and the capacity of this sphere are big, and it does the pressure container of the ocean survey machines, and it can be used.
This sphere is made of titanium alloy, having only a weight of 88kg, it is also light weight on land as well, and communication with the outside reaches it by assembling connector, adapters into the up-down part, and it can do a connection with other machines easily.
| | |
| --- | --- |
| Features | |
| The air weight | about 88kg |
| Buoyancy | about 78kg |
| Outside diameter | φ650㎜ |
| Inside diameter | φ626㎜ |
| Capacity | 130L |
| The use depth of water | ~6,000m |
| material | titanium alloy (64AT equal) |